ASI Accredited SUP School
PADDLE BOARD TOURS
Looking for something fun to do on the water in Harbor Springs? Let our ASI accredited guide teach you to paddle like a pro while you take in the sights with your friends or family. Explore the crystal clear water, see magnificent homes, and paddle by stunning yachts. Your guide will be responsible for your group so everyone has fun together.
learn more »
CHOOSE A SUP ADVENTURE
Paddle Harbor Point
Paddle to historic Harbor Point and get the full water tour of the countries largest natural harbor. Check out the amazing homes that line the magnificent shoreline while paddling calm water.
learn more »
Sunset Tour
Watch an unforgettable Northern Michigan sunset just past Harbor Point. Then stars will light up the night sky above. The LED lights on your paddle board will light up the water revealing a magical world beneath your feet.
learn more »
L

E

D

Night SUP
See what you've never seen before. LED Night paddling is for adventurers who are ready to get on the water past sunset and explore like never before. The NOCQUA SPECTRUM under water lighting system (7 colors available!) have been specially designed to attach to the bottom of any SUP illuminating the water below your feet.
learn more »
PADDLE BOARD YOGA


Take your yoga practice off the mat and onto a paddle board! Invigorate your body and connect with nature in a whole new way. Doing yoga postures on a stand up paddle board increases core strength and agility and is a perfect way to get out in the sun and fresh air!
learn more »

Welcome to Harbor Springs Paddle Board Club. We are passionate about paddle boarding and look forward to teaching and sharing this amazing sport with you all summer long. We have Northern Michigan's only ASI certified SUP instructors. We offer paddle board, paddle board tours, paddle board rentals, and paddle board sales. Harbor Springs Paddle Board Club is the first in the area to offer SUP Yoga and SUP fitness.

Our main launch location is directly in front of the Little Traverse Yacht Club on Bay St. in Harbor Springs. Come visit us and rent one of our premium Red Paddle Co. paddle boards. Or take an adventure with us and sign up for a LED sunset paddle board tour.

We are mobile and can bring the paddle board party to you. Experience an LED night paddle board tour. Wait till you see the beautiful water below illuminated by LED lights that attach to your paddle board. Sunset tours are spectacular as well. We will be offering kids paddle board camps this summer. Call us with any questions at 231-622-9084. We look forward to paddling with you this summer.
Paddle Boarding While Surrounded by ICE!
Blog
Last week a friend and I fished Crooked Lake on our stand up paddle boards and we had a blast. I don't even fish, and I still had a great deal of fun exploring the backwaters of Crooked Lake and dropping a line in the water. I mean it was so peaceful paddling the waters you see here in the first couple of photos. The water was only a foot or less in most places maybe getting as deep as a couple feet. The paddle boards we were on are perfect for fishing. The 10-8 inflatable paddle board is 34 inches wide and very stable. Red Paddle co. is the manufacturer. Jeff, pictured below, brilliantly found comfort on his board placing his tackle box in the middle and sitting on it as he paddled to his next fishing spot. Each paddle board was equipped with a ten pound weight. Using string and a carabineer proved to make for an effective anchor.


The great part about fishing on our paddle boards was the perspective. We silently paddled right over the fish we were after and the fish were very easy to spot, especially when standing. It was like paddling in an aquarium. We spotted several sucker fish and Jeff caught a nice size pike!
It was really cool paddling places that boats couldn't go. Our paddle boards only draw 3 inches and the high density rubber fins are perfect for the shallow spots. Most paddle boards use plastic or carbon fins that draw 6-8 inches or so.
We were on the water for a few hours. Fishing, exploring, and observing nature and all of its beauty. One memory I have is watching a swan take off. It was like watching a pterodactyl or something. Talk about a massive wingspan. And it was kind of adventures passing through the tunnel entering another section of Crooked Lake.
I have always said you can do anything on a paddle board and have fun doing whatever it is you love. That is why I experimented with paddle board fishing. I am glad Jeff encouraged me to go. I know he had a blast. I will definitely like to go fishing again. Just being on the water is always a great experience, catching dinner is a bonus.
If you are interested in paddle board fishing check out Harbor Springs Paddle Board Club. They have the gear, the expertise to teach you stand up paddle boarding, and a great deal of passion. Try paddle boarding this summer. What are you waiting for? Rent a stand up paddle board and go fishing!
---
Inspired by Arthur Daniel. F-one race start. Witness one of the fastest beach starts ever. Brad is paddling the 14ft Red Paddle Co. elite inflatable stand up paddle board. Red Paddle Co. makes the best inflatable SUP on the market because that is all they specialize in. I personally won two races in Maryland last summer paddling the 14 ft elite Red Paddle inflatable paddle board. Inflatable paddle boards better than hard boards in my opinion. Any SUP professional will tell you the most important tool in SUP is your paddle anyways. Why not ride a board that functions like a hardboard without the hassle. Simple deflate your paddle board and stuff it in a back pack and you're off. I can fit 8 inflatable paddle boards in my jetta! It is said imitation is the sincerest form of flattery. I was truly inspired when I stumbled across Arthur Daniel and the fast beach start paddling the f-one SUP on Facebook. So straight away I put on my badass OceanRodeo SUP dry suit and tried to copy that effort. I absolutely love stand up paddle boarding. I have a shop in Harbor Springs, Michigan, and I am an accredited ASI instructor and school. I am passionate about spreading the sport. Keep posting videos and share the stoke. Thanks Arthur for the motivation. Harbor Springs has a paddling paradise for real. Check out my website www.harborspringspaddleboardclub.com
---
Thank you Ocean Rodeo for designing the SOUL dry suit. It is hands down the best dry suit for cold water paddleboarding. I just finished a 3 mile paddle in Harbor Springs, Michigan, home to the largest natural harbor in the United States. Harbor Springs is also home to some wicked cold and windy weather. Die hard surfers come from all over the world to catch some awesome waves in Northwest Michigan come the winter months.

My SUP conditions included 20 mph winds, 40 degree air temps, and below 40 water temp. The ice from winter just left the harbor a few days ago. It rained all day and will rain into the night. I found a window to paddle and I did. I paddled downwind for the first half and against the violent gusts on the way back. I had to drop to my knees a couple times, very humbling. I still loved every second of it. I felt great out there all things considered because I geared up properly. This is so important in any sport or activity.

My SOUL dry suit is amazing. It keeps my sealed, which is step one. I was between a wet suit and dry suit because another concern I had was mobility and free range of motion. I didn't want gear to restrict me in any way. I am conditioned to paddling in tropical weather. I loathe the cold! This dry suit doesn't restrict me at all. In fact, I barely feel I am wearing it sometimes. My xcel booties and gloves give me more issues than the dry suit, mostly because I also have a distain for shoes and don't prefer gloves (see statement about cold above).

I truly am impressed how much mobility I have in this air tight suit. The zipper all work great. The SOUL dry suit is the perfect combination of form and function. I have a great deal of confidence in this dry suit. That is a great feeling to have when paddling in cold windy weather. Trust me.

The only problem I have had with the SOUL dry suit is a reflection of my haste. Sometimes I am in such a hurry to get on the water so I don't take the time to place my feet in properly with regard to the overall straps. This means I have to pull my leg back through and start over. Like I said, the problem is really me. Lol.

Not only did I head out in this wicked cold and windy weather, I paddled in open water and some protected. This means I need some more gear to consider myself properly geared up. I also wore 5mm booties and 3mm gloves both made by xcel. Great buys! I am happy with the performance and they don't smell. I also wore an NRS waist pfd and Dakine waist camel pack. A Bullys leash attached me to a 14ft elite Red Paddle Co. inflatable race board, and a full carbon Mistral paddle weighing less than a pound. I was definitely ready to paddle comfortably and safely.

If you are planning to paddle board in cold water conditions I stand behind the SOUL dry suit. The SOUL dry suit is the best dry suit for cold weather paddleboarding. Contact me or post a comment if you have any questions. If there is a better dry suit out there I certainly want to know about it. I am always looking for the best SUP gear.
---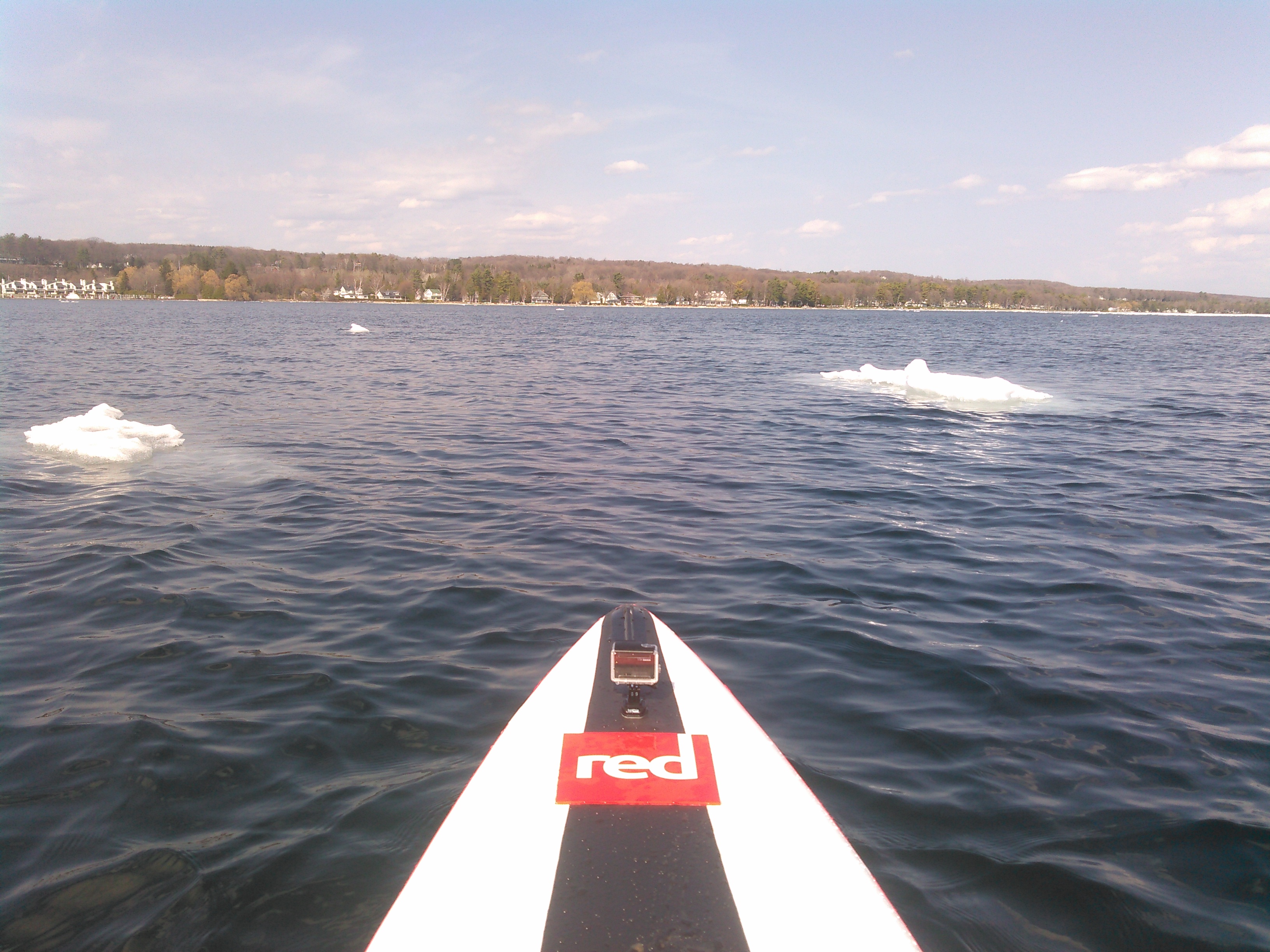 Wow. Paddleboarding with ice burgs is awesome! Harbor Springs, Michigan has some amazing water to paddle. My first SUP experience of 2015 includes some sweet go pro footage of me paddle boarding to the point in Harbor Springs. I am personally escorting the ice out of the harbor on this 70 degree day in May. I am so stoked to SUP in Harbor Springs this spring and summer. The water is more crystal clear than the tropical waters of the Florida Keys where I learned paddle boarding. There was a good breeze today and yet the harbor waters remain unaffected, the perfect water for SUP.



The last time I paddled was November 21, 2015. I remember deflating my board after an 11 mile paddle admiring mega yachts up the ICW in Fort Lauderdale. Picked up my Red Paddle Co. inflatable SUP and walked across the street to catch a few waves. I am not a great paddle surfer. I have only paddle surfed a few times. Wow the ocean is powerful. As I remember it. Today, however, posed a different thrill. The excitement and adventure of paddle boarding in frigid Lake Michigan as the ice burgs float away.
I admit that since I came to Michigan from Fort Lauderdale that I knew I was going to SUP with ice burgs. I just had a feeling. So today was so anticipated. I wouldn't have ever stepped foot in the water if it wasn't for the peace of mind my Ocean Rodeo Soul dry suit gave me. I did my research. I searched for the best dry suit for paddle boarding in cold water and weather. Thank you Ocean Rodeo for constructing an amazing dry suit, perfect for SUP in cold water. I felt sealed and protected in the dry suit. I also had excellent range of motion. The Soul dry suit is the best dry suit for SUP period.

A shout out to Red Paddle Co. for developing the best inflatable paddle board I have ever paddled. I am ridding the 14 foot Elite inflatable race board. What a paddleboard! The only 25 psi inflatable SUP on the market. The 14 foot inflatable race board handles great in the protected waters of the harbor and in the open water. This was my first paddle in nearly 6 months and I reached a high speed of 8.5 mph. The 14 Elite race SUP is a very special board to me. My first 2 SUP racing victories where on a Red Paddle Co. 14 foot SUP. This year's board includes handles on the front of the board for race stats and a carbon fin! Honestly, the best part about my paddle board is that it is portable. I can take my paddle board anywhere because it deflates and fits into a back pack. I can fit about 7 inflatable SUP's in my Volkswagen Jetta. No joke. The Red Paddle Co. race boards look super cool as well. My 14 ft Elite race paddle board is the perfect combination of form and function.

I am super stoked to paddle again tomorrow. I may even head out later to catch the sunset. I miss watching the sun go down on my board. Paddle boarding with ice burgs was pretty awesome. I will remember my first SUP experience of 2015. How many of us are paddleboarding with ice burgs? I am always having so much gratitude for the water and nature.

If anybody is interested in paddling with me before summer please contact me. Harbor Springs Paddle Board Club. 231-622-9084
---
For more information, contact:

Brad Algar

Harbor Springs Paddle Board Club

231.622.9084

paddlewithbrad@gmail.com




Harbor Springs Paddle Board Club, NOCQUA Adventure Gear "Lighting the Way" for Harbor Springs Watersports Enthusiasts with New LED Lighting Systems, Night Tours

Revolutionary NOCQUA 2000, NOCQUA Spectrum LED Lighting Systems, NOCQUA Night SUP Tours Now Available



Harbor Springs Paddle Board Club, USA (April, 20, 2015) — Harbor Springs Paddle Board Club announces that local paddleboarding, enthusiasts in Harbor Springs are now being offered the opportunity to experience the water – and nature – in a whole new way. Harbor Springs Paddle Board Club, a leading supplier of SUP equipment and experiences in Harbor Springs, MI, and NOCQUA Adventure Gear, developer of revolutionary LED lighting systems for paddleboards, kayaks, canoes and other outdoor activities, are proud to announce the addition of the NOCQUA 2000 and NOCQUA Spectrum LED lighting systems at Harbor Springs SUP Club location in Harbor Springs, MI. Harbor Springs SUP Club will also now be offering Night paddleboarding Tour events using NOCQUA lighting systems.



Harbor Springs Paddle Board Club is excited to bring SUP to the Harbor Springs and Petoskey area. Paddleboarding is the fastest growing water sport in the world. And Harbor Springs SUP club is Michigan's only accredited ASI Instructor school. We are SUP professionals who are extremely passionate about stand up paddleboarding. We are so stoked to offer amazing experiences on our beautiful waters in Northern Michigan. All summer long Harbor Springs Paddle Board Club offers SUP rentals, SUP yoga, SUP tours, SUP sales, and LED Night SUP tours.



"It is very exciting to be able to offer NOCQUA's innovative product line and Night Tours to both our current and new customers," said Brad Algar, owner. "Outdoor and paddleboarding enthusiasts in our area should prepare to have their minds blown by these new products. What you can see – and do – with NOQUA Adventure Gear lighting systems is unlike anything you've experienced before on the water. I'm proud to be including these systems in our stores and can't wait to get out on the water for our first LED Night SUP tour."



The NOCQUA 2000 and NOCQUA Spectrum systems are the world's first and only high-­‐performance, removable, rechargeable underwater LED lighting system for stand-­‐up paddleboards, kayaks, canoes and more. NOCQUA lighting systems open up a world of new experiences to paddleboarding enthusiasts by allowing them to explore the excitement and wonder of being on the water at night and view what happens beneath the surface as well. With NOCQUA Adventure Gear products, the fun on the water doesn't have to stop at sunset.



Introduced in 2013, the NOCQUA 2000 (patent pending) system includes two waterproof LED lighting tracks, NOCQUA Adventure Gear's proprietary adjustable harness, a 12V lithium ion rechargeable battery pack and battery charger. The lights produce more than 2,000 lumens of brilliant white light, and are connected to the power source with a "Y" connector, allowing both lights to use power from one battery. The lithium ion battery, included with the NOCQUA system and encased in a nylon sleeve, is capable of powering both lights for 2-­‐2.5 hours. An additional battery can be stored on-­‐board as a replacement so paddlers will be able to stay on the water for up to 5 hours. Batteries can be charged hundreds of times by the 110V UL approved battery charger included with the set.

-­‐-­‐more-­‐-­‐

The NOCQUA Spectrum system was developed for watersports enthusiasts who are looking to further enhance their nighttime water experience. Like the NOCQUA 2000, the NOCQUA Spectrum offers everything one needs to bring light to night paddling – with the addition of seven lighted colors. The system includes two waterproof LED lighting tracks, NOCQUA Adventure Gear's proprietary adjustable harness, a 12V lithium ion rechargeable battery pack and battery charger. Plus the Spectrum system includes a control switch that allows users to light the waters with any one of the following 3 modes or 7 colors with the push of a button: Users can choose the color depending on mood, group, water conditions or objectives.



To help introduce the NOCQUA LED lighting systems, DEALER NAME will also begin offering NOCQUA Night Tours X times per week to its customers. Now, enthusiasts can experience first-­‐hand what happens below the surface of the WATER, RIVER after dark and observe nature in a serene, unobtrusive manner. Expert tour guides will show participants marine life that was unable to be viewed – until now using NOCQUA lighting systems. Great for corporate or family outings, friendly get-­‐togethers or to experience underwater life, NOCQUA Night Tours are available by contacting Harbor Springs Paddle Board Club at 231.622.9084.



"We're very happy to be offering our lighting systems and night tours to CITY residents through our partnership with Harbor Springs Paddle Board Club," said NOCQUA Adventure Gear founder and inventor Billy Rossini. "NOQUA Adventure Gear's products and Night Tours offer users a unique – and really cool way – to experience and connect with the environment .Our innovative lighting systems have changed the way that users experience being on the water and observe marine life, and help provide a better understanding of unique underwater habitats.. And, as someone who has been passionate about watersports for his entire life, I'm beyond excited to partner with Harbor Springs Paddle Board Club and share that passion with the area."



About NOCQUA Adventure Gear
Headquartered in Winston-­‐Salem, N.C., NOCQUA Adventure Gear was founded in early 2013 with a mission to make outdoor enjoyment accessible for everyone. NOCQUA Adventure Gear's products are designed for multi-­‐sport athletes and engineered specifically for watersports enthusiasts. The NOCQUA Adventure Gear team hopes customers will use their products as a means to connect with the environment around them and create new, shared experiences with family and friends. For more information, please visit www.nocqua.com.
Indoor Paddle Board Training

Winter Downhill Paddleboarding
Tricking On My LandYachtz Board